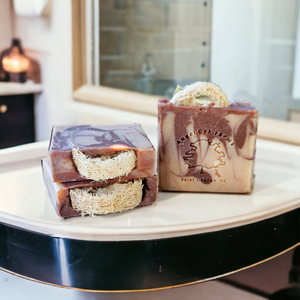 Lowcountry Luffa with Goat Milk
This soap is reminiscent of our local pluff mud, but has a subtle tropical fruit fragrance of exotic mango and creamy papaya. Each bar has a slice of our homegrown luffa embedded inside. The luffa provides an extra boost of exfoliating power to leave your skin healthy and glowing.
Ingredients:
Olive Oil, Coconut Oil, Castor Oil, Sweet Almond Oil, Cocoa Butter, Shea Butter, Fresh Goat Milk, Sodium Hydroxide, Fragrance, Sodium Lactate, Silk Fibers, Iron Oxide, Homegrown Luffa.